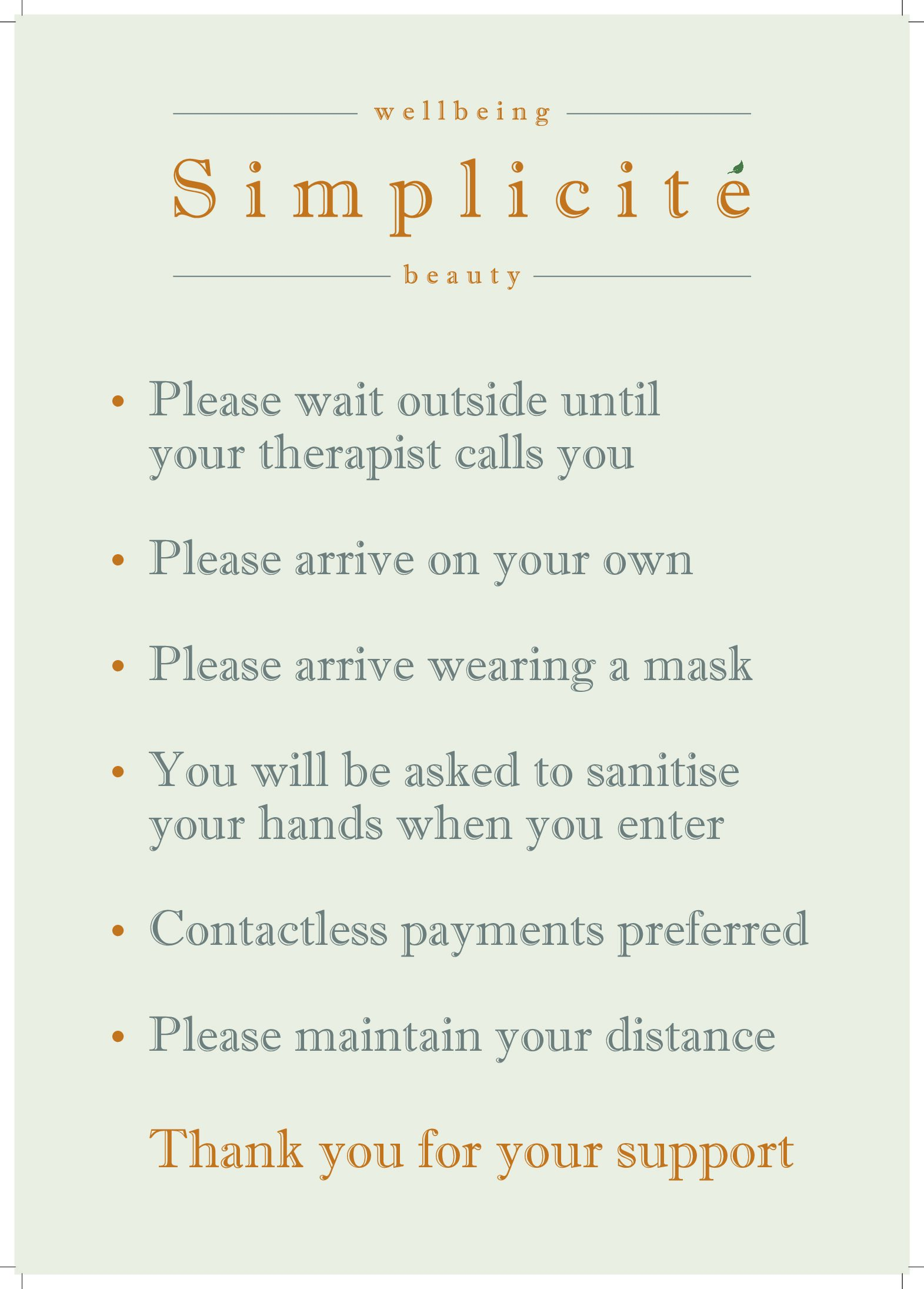 Dear All,
We are so excited to be welcoming you back to Simplicité. We want your visit to be a safe and enjoyable experience. In light of COVID19, we have had to implement some extra safety procedures for the protection of our clients and staff
We appreciate your adherence to these new procedures. This is a new world for us us so we appreciate your patience during these difficult times.
If you answer yes to any of the following questions prior to your appointment, we ask that you contact us to reschedule your appointment

Have you visited any countries outside of Ireland excluding Northern Ireland
Are you suffering any symptoms of coronavirus?
Are you experiencing any breathing difficulties or shortness of breath?
Are you experiencing any fever/temperature symptoms?
Did you consult a doctor or any other medical practitioner?
Have you been in contact with someone who has been in an infected region in the last 14 days?
We ask you to come alone and wait outside until your therapist collects you. Our reception waiting area is out of use for now
We would ask for contactless or card payments only
You will be asked to arrive wearing a face mask where possible. You will advised when to remove your mask fro certain treatments following further hand sanitisation
We will be wearing a face mask and or visor/goggles to protect you and ourselves
We will ask you to sanitise your hands upon arrival using our electronic hand sanitiser and minimise touching of doors etc
We have added time to our treatments to allow for disinfection as well as our current sanitisation policies
We will only be allowing two clients at the nail bar for now
If you are having a treatment in one of our rooms, your payment will be taken there as well as any retail or voucher purchases.
Your therapist will demonstrate their own hand sanitisation
Disposable towels will be used for all treatments. For massage we will use a towel to cover you for warmth which will be washed as usual
We will be confirming our appointments 24-36 hours prior to your treatment and a COVID19 declaration from you will required
When you arrive, we will be re confirming that no changes have taken place since your initial declaration
We have removed all our soft furnishings including cushions and blankets. You are welcome to bring your own depending on the treatment that you are having e.g. Mink Lashes
We will require 50% security deposit to book your appointment
In light of increased costs and reduced capacity, we have adjusted some of our pricing. Please refer to our website
Looking forward to seeing you all,
The team at Simplicité