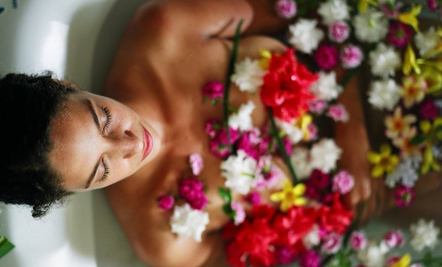 "The beautiful spring came, and when nature resumes her loveliness the human soul is apt to revive also" Harriet Ann Jacobs
Springs arrival is a welcome sign of renewal, rebirth and starting fresh. It's prime time to purge unnecessary things from you home, workspace, inbox, even your social media accounts, to make room for what the new season can bring. This is a time for transition and its important to stay grounded and to know that brighter, warmer days lie ahead.
Water Is Life
Sacred bathing rituals are nothing new. The presence of water has long signified a blessing and immersing oneself in it for the pursuit of good health and ritual purification inspired ancient people around the world to worship water for its soothing, healing and regenerating properties. The element of water serves to purify energy, renew the body, and nourish the soul.
Our bodies are made up of 85% water, which means that when we immerse ourselves in water, its has a profound impact on our own bodies. Because of its unique molecular structure, water responds to the intention we place within it, and those intentions are powerfully transmuted into our bodies when we bathe.
On a more physical level, bathing in warm water increases circulation of blood and lymph, promotes detoxification, relieves muscle and joint pain, boosts the immune system and encourages relaxation. Our skin is our body's largest organ, thus immersing in water infused with the healing powers of salts and essential oils is an opportunity to take in natural medicine and that transforms our wellbeing.
A Salt Bath Ritual for Cleansing
To prepare for a season of growth, it is important to move past the hardness of winter. This cleansing bath ritual will purify your body through the skin washing away worries, anxiety, frustration and making space for the new beginnings of spring.
What you'll need from outside
A Bathtub(no bath no problem: half all ingredients in this recipe and add to a hand or foot bath instead )
 20 minute playlist of Relaxing Music (Deva Premal is a great option)
 1 or 2 cups of Magnesium enriched bath salts
 10 drops of Lemon and 10 drops of Ginger essential oils
 Body oil (Our Made for Life organics range @Simplicitie is a wonderful option)
What you'll need from inside
 Set an intention for your self for the season ahead.
 The desire to reflect and let go of the harshness of the winter gone by.
A note on bathing temperature
For a stimulating bath, you will want the water to be on the warmer side. You'll notice the hotter water will cause an increase in circulation and a flushing of the system. If its too hot however your heart will race and you'll want to get out- if this is the case add cold water
Instructions
1. Once your bath is filled with water to the temperature of your liking. Add the salts and essential oils.
2. Switch on your relaxing music. (Leave all tech out of reach)
3. As you settle into the water, allow your eyes to close or keep a soft gaze.
4. While you're in the bath, know that the salt is working to cleanse you from the outside in this is due to its high magnesium content, a mineral that's essential in helping tight and sore muscles to release. The lemon essential oil helps fight exhaustion, helps with depression, clears the skin kills harmful viruses and bacteria and reduces inflammation. The ginger essential oil is warming to the body thus eases muscular pain and combats fatigue.
5. Envision three things you would like to let go of for spring. They can be material things, negative self talk or relationships that no longer serve you. Be honest with yourself. Then set yourself an intention for the season ahead.
6. Stay in the bath until your playlist ends. Pat your body dry leaving it slightly damp and nourish your body with body oil.
7. Give yourself time to relax an take it easy after your bathing ritual.