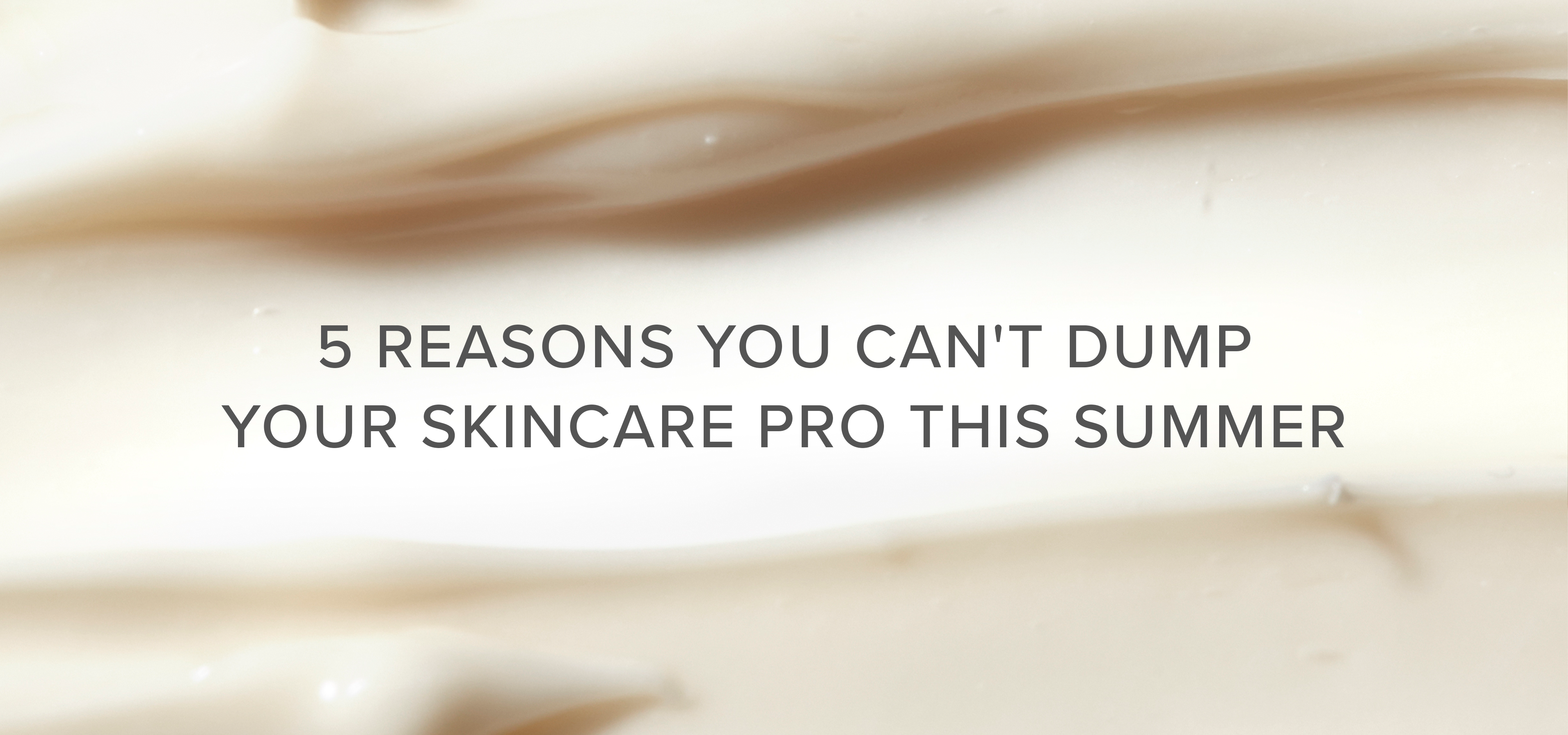 POV: Your skin is on point, you're full of confidence and having the best summer! Yes! This is also our goal, and we have spent the darker months investing time, energy, and money into our skincare regime ready for this moment! Trouble is, now that summer fun is here, it's absolutely not the time to jack in those active ingredients or forget about your pro.
1. You Need Your Pro More Than Ever In The Harsh Summer Months

Yep, the summer wreaks havoc on our skin. It's arguably the hardest season for skin thanks to environmental changes. Not only is skin cowering from the sun's damaging UVA and UVB rays, but we're also producing more oil. What?! "More oil?!" we hear you cry! Yep, when the weather is warmer, we naturally produce more oil, and of course, we sweat more too. This combo leads to blocked pores, breakouts, and excess shine. It's a common misconception that your skin will be fine in the summer with simply sunscreen. In actual fact, we're usually outside more, and the summer sun is so damaging, that your skin needs more support to get through these months unscathed! Let your pro help you get through summer and into autumn without destroying all your hard work and you can enjoy more beautiful skin all year round.
2. Book A Seasonal Skin Review

Check in with your pro throughout the summer months and ensure you have a seasonal skincare review to support your different needs. For example, dry skin types might find the rich creams that were suitable in winter are now too rich, while oily types might well find that they're experiencing more breakouts. You might need to reduce some active ingredients or double up on particular products. Your skin pro will guide you through it all and ensure your skin has everything it needs to get through this potentially difficult season without any issues.
3. Discover New Ways To Adapt Your Current Routine

You are already wearing sunscreen day in, day out, without fail, but are you topping up every 2 hours? Our recent blog post will help you with this trickiest of summer steps, and so can your pro. Remember, if you're hitting the beach you don't need to buy a new sunscreen at the airport, just make sure you have a decent supply of your AlumierMD sunscreen. and offer the ultimate protection, even in strong sunlight. Despite the rumours, retinol can be used in the summer months as long as it is used correctly. Dr. Sonia Khorana, Dermatology expert at Medizen, explains, retinol can be photosensitive if used during the day and sunscreen is avoided or improperly utilized. However, retinol can help to maintain skin resilience and prevent poor skin quality caused by heightened environmental factors during summer.  If you've been using retinol already, dumping it now could cause more harm than good. Just get on board with the sunscreen top-ups and speak to your pro for personalised advice.
4. Find New Products That Could Suit You
It's no secret that when we create new products, we think seasonally. In the summer months, our new products will be geared towards supporting skin through issues that tend to rise around this time of year. Case in point, we recently released our Refining Clay Mask. This unique clay-rich face mask includes bentonite – a clay that absorbs oil, dirt and toxins, and kaolin – a sponge-like clay that absorbs oil and helps to decrease the appearance of pores size. You'll also find lactic acid, the gentle AHA, that helps enhance cell turnover and improve skin texture. Plus, fruit enzymes from pineapple and papaya, which both soothe and exfoliate for smoother skin. It's brilliant at calming down oil production and obliterating shine. Adding a weekly mask to your skin routine makes sense in the harsh summer months. The right face mask will help to support your skin and boost your whole routine. Your skin pro can help you find the ONE.
5. You Can Still Have Treatments In The Summer
Yes! You can still have in-clinic treatments throughout the summer months, woo! Including chemical peels! Of course, this will mean your skin is more sensitive to sunlight for a time, so we wouldn't advise a peel followed by 2 weeks of sunbathing in Greece. (Actually, shade bathing is always our recommendation to help prevent the damage that the sun causes to collagen – the literal scaffolding of the skin.) However, if you follow all the steps provided by your skin pro, stay committed to sunscreen, and continue with your tailored skincare routine, you'll all achieve those skin goals.
So, what are you waiting for? Book your seasonal skincare review right away and be smug this September when your skin still glows with health!